Asana, Pranayama, Bandha, Mudra: The Essence of Hatha Yoga with Mas Vidal (Maheshananda)
The Nath yoga lineage of Goraknath and Matsyendranath provides the original methodologies that have made Hatha Yoga a remarkable system for purification of physical and mental impurities (malas-doshas) and teaches the importance of pranic control to ascend one's spiritual consciousness towards the unified state of samadhi. All modern forms of physical yoga are basically fragmented expressions of Hatha Yoga. The sun (Surya) and moon (Chandra) energies were meant to be united via an integral ha-tha system. Hatha yoga as a sub-branch of Tantra Yoga provides the original dispensation of Kundalini Yoga all of which are part of the natha yoga tradition. In simple terms, this is a breathing workout provided through a variety of methods that combines some specific poses and special aspects of yogic techniques rarely taught in commercial yoga classes or schools.
This workshop will cover:
The pre-requisites are mentioned in the text for the proper and safe awakening of the kundalini energy.

Learn how to practice asana, pranayama, bandha & mudra together as they were originally intended.

Review and practicum of the essential pranayama (breathing techniques) and proper use of the diaphragm and the correct application of inhalation (puraka), kumbhaka (suspension), and rechaka (exhalation) of the breath.

Importance of combining the tensing and releasing of the muscles, mind, and concentration.

Methods of Shiva and Shakti and balancing the kundalini energy in the spine. Shiva is the great teacher (Mahadev) of the kundalini, Hatha, and tantra, and the guru of all yoga sadhaka's (aspirants).

The practice of mudras (gestures) via the hands, eyes, tongue, and in some cases the entire body. To whom and to what are you gesturing?

Importance of Goddess worship and its correlation to kundalini and the chakras (Durga-kali, Lakshmi & Saraswati).

MoreLife Market's Premium Ayurvedic Products will serve hot chai and a gift bag for all attendees.
 Prerequisites for attendance 
The regular yoga practice of any type (Hatha, Karma, Bhakti, Jnana, Raja)

Willingness to sweat and surrender.

Avoidance of meat, alcohol, and coffee for a minimum period of 10 days prior to the workshop.

Lack of major stress in daily life.

Lack of emotions or unsteadiness in one's mental attitude.

Not currently in recovery from severe trauma or injuries.

Only water or fruit juices before class.
Location: Soul of Yoga in Encinitas, Calif.
Date: Sunday, July 31st
Time: 7am – 11am
Cost: $108
Discounts: 15% for all SOY members, staff, and Ayurveda program students, and anyone who needs a discount will not be turned away 
---
Prana Therapy Certification Intensive with Mas Vidal (Maheshananda)

Prana Therapy works with the astral or chakra body to awaken prana in a soft and soothing way that promotes awareness and increases immunity by unblocking prana in the various three vital zones that are related to the doshas and the sacred knots (grantis) within the chakras. It is considered a vital form of psychological healing for the mind and its affiliated partners such as the ego, thoughts, and emotions. Prana therapy finds its roots in Vedic Mantra Yoga, Tantric Goddess traditions, and Ayurveda. Prana Therapy integrates:
Mantric bija-sounds

Visualization techniques

Ayurveda oils

Marma points

Specialized breathing techniques





Prerequisites for the Course:




200 Hour certification in Yoga or Ayurveda training that includes an understanding of the chakra system as per the Tantric Yoga tradition.

Certified Ayurveda Counselor or Practitioner.

Certification in massage, reiki, sound healing, or any other modality of healing is helpful.

Understanding of the Gunas.

A regular practitioner of yoga classes for at least 5 years.

*At least one of these requirements qualifies as a valid prerequisite for this intensive


   


Location: Soul of Yoga, Encinitas, Calif.


Date: Sept 3 & 4


Time: 9am - 1pm
Cost:  Early Bird $380 until 8/6/22 $400 Thereafter

Register for Workshop
---
T

he Magical & Mysterious Mind as per Ayurveda, Yoga & Vedic Astrology

with Mas Vidal (Maheshananda)
Dive into understanding the layers of the mind and its methods of function as well as the factors that influence one's quality of life and well-being While modern-western medicine focuses on healing the brain and understanding its function, the Yoga and Ayurveda traditions see the mind as the primary source of healing and spiritual evolution. After learning about the mind as referenced in Vedantic and Vedic astrology scriptures we will explore the multitude of tools and techniques offered in Yoga and Ayurveda for managing the mind, reducing its fickleness, and increasing its capacity to concentrate and attain higher levels of relaxation, stillness, and peace. We will also explore what defines the true deep state of sleep and how to attain the state of profound relaxation and restoration that can provide real solutions for many of today's complex health issues. While most fall asleep, down into the darkness of the subconscious mind, one can actually learn to rise in sleep and transcend to higher conscious states of mind.
This workshop will cover:
Provide an understanding of the mind as per Yoga tradition

Explain the relationship the mind has with the brain

Define sleep and its states

The mind as per Vedic astrology

Provide wisdom and reading material based on Ayurveda & Yoga


How to reduce mental conditions (samskaras & vasanas)

Practical personal and group exercises

Recommendations on mantras, diet, herbs & oils for balancing the mind.


Role of sleep for advancing cultural harmony
Location: Soul of Yoga / Encinitas, Calif.
Date: Coming soon...
Time: 4-7:30pm
Duration: 3.5 hours

---
Healing Emotions with Mas Vidal (Maheshananda)

An emotional mind can be destructive and detrimental to health and wellness on every level. Because one is not expressing emotions does not mean they do not exist. The basis for mind-body medicine or healing is that emotions are correlated with different organs of the body, doshas, and dwell in the subconscious mind. The Ayurveda and Yoga systems provide remarkable teachings on how to dissolve the emotional aspect of the mind and transform their energies towards positive intentions and proper use of the mind. Emotions are derived from a lower aspect of the mind that is a result of habits and mediocre mental attitude. Gain the wisdom to live a victorious life!
This wisdom workshop will cover:

Understanding how emotions affect the human body

How emotions project in the world body

Methods for overcoming the influence of emotions

Correlation of emotions to doshas, systemic functions to diseases

How to transform emotions to create greater balance and harmony in life

Use of mantras, meditation, and classical Raja Yoga for managing this aspect of the mind

Ayurveda's lifestyle principles for conquering action-reaction dynamics
Location: Soul of Yoga / Encinitas, Calif.
Date: June 25th
Duration: 3.5 hours
Time: 4- 7:30pm
Click here to register
 
---
Ayurvedic Lifestyle with Mas Vidal (Maheshananda)

Learn how the ancient wisdom tradition of Ayurveda provides practical principles for health and wellness based on natural laws. These commonsense practices can be transformational if one understands what is best for their mind-body type and include the three major categories of diet, sex, and sleep.  This universal wisdom begins each day with special rituals that help connect human beings to their cosmic nature. The topic of diet will include oils, basic food groups, use of herbs and spices, and what to do each day as soon as you arise from sleep.  Most of the world remains dormant and waits for something to go wrong with their body. It's not a matter of if, it's when, as karmic law abides equally to all human beings. Everything else can wait, but your search for truth cannot!
This workshop will cover:
Knowledge of the natural laws that sustain the relationship between human being and their cosmic nature.

Teaching the Ayurvedic daily routine, and take-home practices to the entire family.

The role of diet and Ayurvedic secrets in creating a powerful human body.

Sexuality and its influence on immunity, digestion, menstruation, and longevity.

Learn the basic rules around sleep and simple remedies for improving it.

Herbs and Spices in the daily and seasonal diet.

Creating skin and hair health and radiance
Location: Soul of Yoga / Encinitas, Calif.
Date: July 23rd
Duration: 3 hours
Time: 4 - 7:30pm
---
Vedic Astrology Remedies and Spiritual Practices with Mas Vidal (Maheshananda)


Mas will be doing a special bonus online class and Q&A on remedies applied as per Vedic astrology. He will discuss how the birth chart can be used to apply important remedies for balancing the dosha. Factors include the rising sign (lagna), moon, placement of the lagna lord, and use of the vimshotarri dasha system. He will discuss herbs, diet, gemstones, mantras, and lifestyle and age factors. Note: This course is being offered through Sam Geppi's school and you would need to register directly on their website. The price for this course is very fair and this does give many people an opportunity to ask Mas direct questions regarding their health and birth chart. Attendees will also be given a discount code for wwe.morelifemarket.com products.


Date: June 19th
Time: 10 am - 12 pm

More details found here: https://spirit8020.securechkout.com/
---
A Four-Part Series in Coconut Grove (Miami, Florida)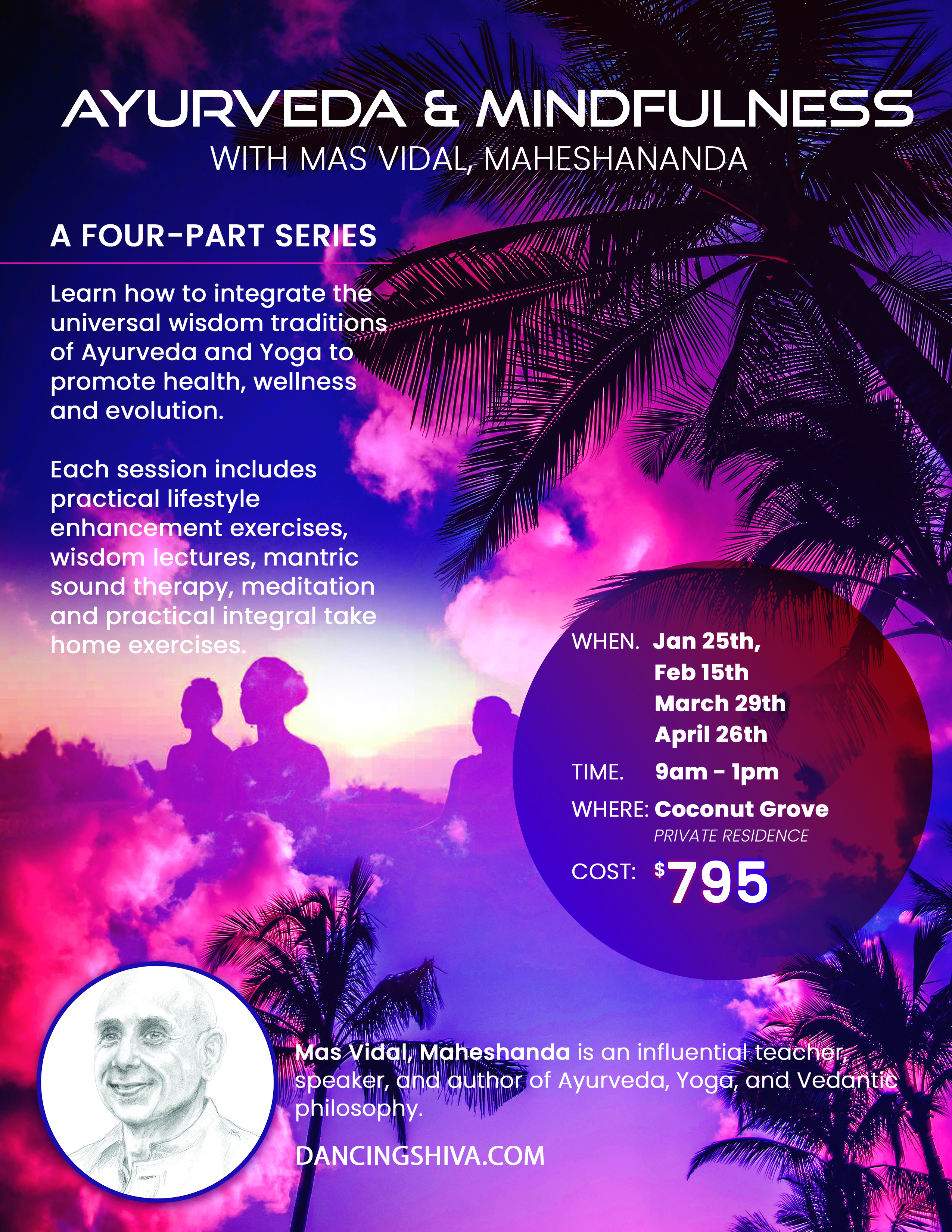 ---
---