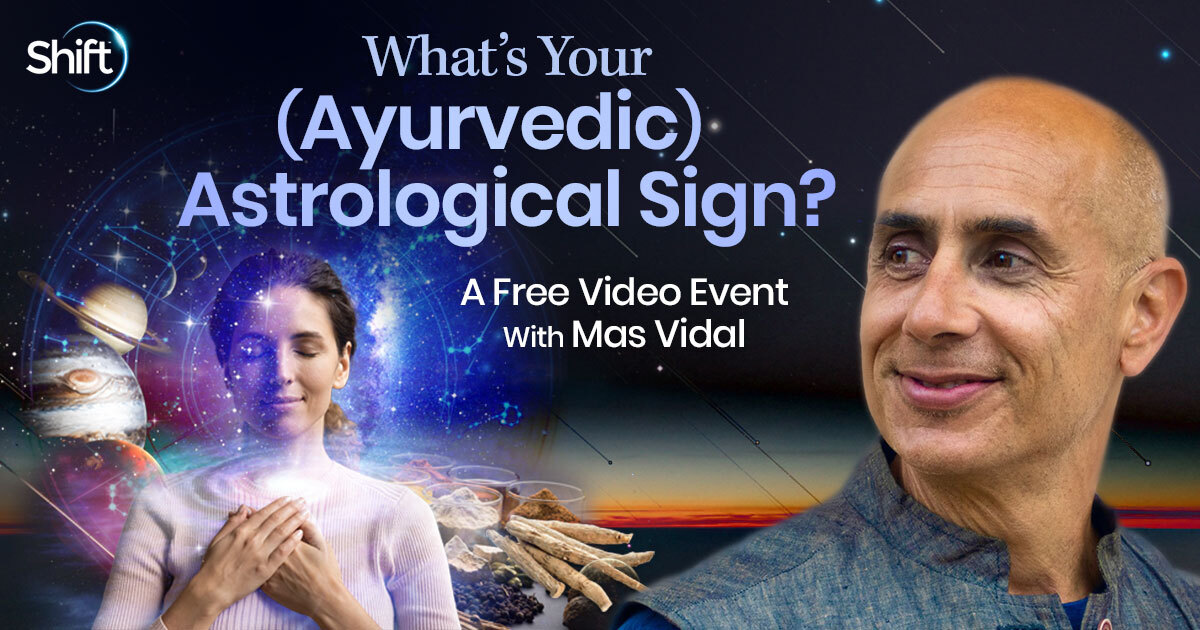 Mas is offering a free video class where you'll discover how your Vedic astrological birth chart offers you the ability to examine your cosmic anatomy and personalize your Ayurveda practice accordingly — to prevent illness, promote longevity and immunity, increase discernment of your life purpose, and cultivate more joy and wellbeing. Consider this video class as a trailer-teaser for the seven-part series which starts in May.
Date: On Thursday, April 20
Time: 5:30 pm PST (California Time)
Click Here to View the Video Here
---
The Natural Laws of Ayurveda for Health & Wellness

Ayurveda is the science of life and is the sister system to Yoga. Ayurveda is based on the five great elements which create laws and principles for how human beings should live on Earth. Ayurveda teaches us to understand how to live in harmony with nature, understand the mind-body relationship, and provides great wisdom on dietary principles according to our unique constitution. Ayurveda is a universal intelligence and is useful for anyone wanting to improve their quality of life and well-being.

Date: May 6th
Location: 3943 Portola Pkwy, Irvine, CA 92602
Cost: $85 same-day registration / $75 pre-registration (use discount code PREREG10)
Time: 12:30 pm - 5:30 pm
---
Ayurveda & Vedic Astrology Course (Offered through The Shift Network)
This seven-week course offers seven 90-minute weekly classes on the intersection between Ayurveda and Jyotish (Vedic astrology). This course is an incredible opportunity to learn how medical astrology can be applied to your own chart and life. This is an excellent course for beginners and intermediate-level students of Ayurveda and Astrology. The course shows you the connection the planets, signs, and houses have to the doshas and mind, and how to prevent health issues and promote longevity. Don't miss this opportunity which represents twenty years of Mas Vidals experience and research in this area. Mas will provide a background into why the tropical zodiac is not completely accurate, which explains why you are not the sign you think you are. The tropical or Western system also does not present the spiritual values necessary for human evolution and does not have the medical aspect (as does the Vedic system) necessary for healing.

Another big theme of this course is understanding the moon sign and the significance of the moon as the power of the Goddess in our modern societies. If you want to learn how profound Ayurveda and Vedic astrology are when they are integrated and how to prevent health issues and you avoid karmic patterns, then this is the course for you!
Start Date: May 11th / 7 consecutive Thursdays
Time: 5 pm PST-California Time
Duration: Each class is 90 minutes

Click Here to See the Video About the Course
Click Here to Enjoy a Video about the Significance of the Moon
Click Here to Watch a Video About the Importance of knowing your correct astrology sign
---
Portugal Retreat 2023 with Mas and friends
Join Mas and his friends for a retreat in the splendid coastal town of Melides, Portugal. This all-inclusive retreat includes exquisite organic plant-based meals, meditation, yoga, and many other great activities that surround this remarkable landscape of the Comporta-Melides coast.
Date: July 17th - 23rd

*Now taking registration deposits, space is limited to 12 persons. More details coming soon. Note: This long-awaited retreat will sell out very quickly so space is confirmed only for those that have provided a deposit.

For more info visit the Portugal Retreat Page, Click here.
---
600-Hour Ayurveda Counselor Program

Join Mas and his international faculty for the Level Two portion of the program. If you want to attend we recommend that you complete the Level One 50-Hour Foundations Program. The program takes place in Encinitas, Calif but will also be live-streamed.
New Program begins: June 8th - 11th, 2023
Location: 162 South Rancho Santa Fe Road, Encinitas, Ca 92024 (Soul of Yoga Institute)

Email Elizabeth (program coordinator) at:
---
Encinitas Public Lectures In June 2023 with Mas

June 10th (9 am -12 pm) - Ayurvedic Nutrition and Cooking Fundamentals - Learn the core principles and secrets that Ayurveda has taught for millennia to balance the body, keep metabolism and immunity strong and promote longevity. All are welcome!
Click here to purchase tickets

June 11th (9 am -12 pm) - Who AM I - Learn the primary factors for determining your body type (doshic constitution) according to Ayurveda, Yoga, and Vedic Astrology. All are welcome!
Click here to purchase tickets
*All lectures take place at 162 South Rancho Santa Fe Road, Encinitas, Ca 92024 (Soul Of Yoga)
Cost: $50

---
Encinitas Public Lectures In August 2023 with Mas
August 19th (9 am -12 pm) - Classic Hatha Yoga & Raja Yoga - Experience the essence of the sun-moon tantric traditions for awakening the serpent energy and purification of the doshas. This integral practicum will include asana, pranayama, relaxation, devotion, and meditation. All are welcome!
Email us to attend at

August 20th (9 am -12 pm) - The Intelligence in Herbs and Sacred Medicines of Ayurveda - Learn how herbs can bring greater balance to one's physiology and also how they can increase one's intuitive capacity, thus increasing devotion and calmness of mind. Herbs contain a sacred elixir or soma that becomes a bridge between spirit and nature. Mas will give recommendations on how to use herbs in daily life and to enhance one's yoga practice. All are welcome!
Email us to attend at
*All lectures take place at 162 South Rancho Santa Fe Road, Encinitas, Ca 92024 (Soul Of Yoga)
Cost: $50

---
Encinitas Public Lectures In October 2023 with Mas
October 7th (9 am -12 pm) - Learn How to Detox - Ayurvedic medicine provides the most profound approach to detoxification that has been in practice for over two millennia. Take home nature's wisdom so you can apply the sacred methods of detoxification at home for improved sleep, and digestion, increasing the vitality and immunity of the skin. All are welcome!
Email us to attend at

October 8th (9 am -12 pm) - Vedic Astrology in Daily Life - The sidereal zodiac provides the most comprehensive and accurate approach to understanding the impact our previous karma has on our current life. Jyotish or Vedic astrology helps you understand how karma is unfolding and how to mitigate it to promote harmony and health in one's life. All are welcome!
Email us to attend at
*All lectures take place at 162 South Rancho Santa Fe Road, Encinitas, Ca 92024 (Soul Of Yoga)
Cost: $50

---
Mexico Retreat with Mas and friends


YOGA, MEDITATION, ORGANIC VEGETARIAN FOOD, AYURVEDIC TREATMENTS & AMAZING SURF

Location: Playa Troncones, Mexico
Date: Oct 24th - 31st, 2023

---