---
Prana Therapy Certification Intensive with Mas Vidal (Maheshananda)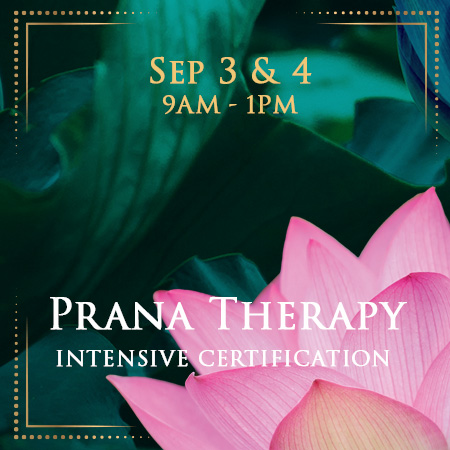 Prana Therapy works with the astral or chakra body to awaken prana in a soft and soothing way that promotes awareness and increases immunity by unblocking prana in the various three vital zones that are related to the doshas and the sacred knots (grantis) within the chakras. It is considered a vital form of psychological healing for the mind and its affiliated partners such as the ego, thoughts, and emotions. Prana therapy finds its roots in Vedic Mantra Yoga, Tantric Goddess traditions, and Ayurveda. Prana Therapy integrates:
Mantric bija-sounds

Visualization techniques

Ayurveda oils

Marma points

Specialized breathing techniques
Prerequisites for the Course:
200 Hour certification in Yoga or Ayurveda training that includes an understanding of the chakra system as per the Tantric Yoga tradition.

Certified Ayurveda Counselor or Practitioner.

Certification in massage, reiki, sound healing, or any other modality of healing is helpful.

Understanding of the Gunas.

A regular practitioner of yoga classes for at least 5 years.
*At least one of these requirements qualifies as a valid prerequisite for this intensive.
Location: Soul of Yoga, Encinitas, Calif.

Date: October 1st & 2nd Time: 9am - 1pm
(Please note the new dates for this training).

Cost:  Early Bird $380 until 8/6/22 $400 Thereafter
Register here for this Training
---
Sanskrit Certification Course For Ayurveda & Yoga / 20-Hour Certification

Learn the key aspects of the language of primal sound and the most sacred language in the world, Sanskrit.  Study the alphabet and key terms used in Ayurveda, Yoga, and Vedanta. This course is for beginners, yoga teachers, Ayurvedic counselors, and those with more experience that want to brush up. This course will teach good pronunciation of important words and mantras and provide an understanding of the energetics behind the vowels and consonants that make up the sacred elements of this spiritual language. Venkatesh provides wonderful illustrations and presentations to guide you through a dynamic learning experience.
Course attendance-participation: The majority of the course will be online via zoom and two classes live in person will be live-streamed. All classes will be recorded so live in-person attendance is not required for completing the course.
Structure:
10 classes
90 minutes each
Bio: His picture should still be in the media section.
Venkatesh Rao is a teacher at the prestigious Samskrita Bharati, an organization dedicated to reviving the Sanskrit language. He has been teaching the Sanskrit Language for the last 8 years in Southern California and also through online media. He is also a student of Yoga and the holy Bhagavad Gita.  Venkatesh is a dedicated sadhaka (spiritual aspirant) who balances his love for Vedic-Hindu culture with a profession as a management consultant for technology companies.
Dates: Sept 12th - Nov 14th (10 Consecutive Mondays)
Time: 6 - 7:30pm

Cost:
$345
(Regular) / $315 (Dancing Shiva Program students) 
Dancing Shiva Students $315 Sanskrit Class $345
---
Ayurvedic Lifestyle with Mas Vidal (Maheshananda)
Learn how the ancient wisdom tradition of Ayurveda provides practical principles for health and wellness based on natural laws. These commonsense practices can be transformational if one understands what is best for their mind-body type and include the three major categories of diet, sex, and sleep.  This universal wisdom begins each day with special rituals that help connect human beings to their cosmic nature. The topic of diet will include oils, basic food groups, use of herbs and spices, and what to do each day as soon as you arise from sleep.  Most of the world remains dormant and waits for something to go wrong with their body. It's not a matter of if, it's when, as karmic law abides equally to all human beings. Everything else can wait, but your search for truth cannot!

This workshop will cover:

Knowledge of the natural laws that sustain the relationship between human being and their cosmic nature.   

Teaching the Ayurvedic daily routine, and take-home practices to the entire family.

The role of diet and Ayurvedic secrets in creating a powerful human body.

Sexuality and its influence on immunity, digestion, menstruation, and longevity.

Learn the basic rules around sleep and simple remedies for improving it.

Herbs and Spices in the daily and seasonal diet.

Creating skin and hair health and radiance

Location: Be The Change Yoga Studio / Irvine, Calif.
Date: Sunday, Oct 2nd

Duration: 2 hours

Time: 4-6pm

---
Introduction to Understanding Diseases According to Ayurveda

All are welcome to attend this special lecture given by Dr. Gunvant Yeola during his first visit to California. Disease pathology is a unique and important way of understanding and managing diseases. Learn how diseases develop and identify the early stages, signs, and symptoms of disease and how they progress as influenced by one's own personal lifestyle, genetics, environmental factors, and karma. Ayurveda provides remarkable teaching on how to overcome even the most complex disorders of the body and mind. Dr. Yeola will cover signs, and symptoms, and treat diseases as per the doshas through an extensive variety of natural therapies, diet, herbal remedies, detoxification, and lifestyle changes. This workshop is open to all levels but is especially recommended for students of Ayurveda, yoga, natural healers, medical doctors, acupuncturist, or anyone interested in registering for Dancing Shiva's Ayurveda Counselor Program.
Thursday, Sept 15th
Teacher: Dr. Gunvant Yeola (Special guest teacher from Pune, India)

Time 9 am – 12 pm

Location: Soul of Yoga, Encinitas, Calif

---
Improving Digestion Thru Vastu & Vedic Medical Astrology Remedies
Michael Mastro will explain how Ayurveda's sister sciences can improve our digestion which is the source of our health, productivity, and well-being. Michael Mastro has been a Vastu(Indian Feng Shui) Consultant and Vedic Medical Astrologer for over 50 years and was the Vastu Architect for the first Microsoft building.
Saturday, Sept 17th
Teacher: Michael Mastro

Time 10 am – 12:30 pm

Location: Soul of Yoga, Encinitas, Calif
---
Womens Health: Promoting Fertility, Immunity, and Longevity

All are welcome to attend this joint lecture given by Mas Vidal (Maheshananda) and his special guest from India Dr. Gunvant Yeola during his first visit to California. Women's health is at the forefront of wellness today as children and our younger generations deal with the complexities of modern life, immunology disorders, misuse of sex, prescription medications, and financial stress. A women's health influences the health of our entire society because of fertility issues, hormonal imbalances, digestive issues, mental and emotional stress, and much more. Both Mas Vidal and Yeola will share over 40 years of combined experience in women's health and wellness, including common causes of infertility and immune issues that are carried on by their offspring. Other topics covered include defining a healthy menses cycle, managing peri-menopausal symptoms and therapies, and diet and herbs to promote beauty.
Saturday, Sept 17h
Teacher: Mas Vidal (Maheshananda)  & Dr. Gunvant Yeola
Time 2 – 5 pm

Location: Soul of Yoga, Encinitas, Calif