Mexico Retreat (Oct 2023)
YOGA, MEDITATION, ORGANIC VEGETARIAN FOOD, AYURVEDIC TREATMENTS & AMAZING SURF
Experience the essence of Mexico's pacific coast at a quiet, non-commercial beach village that is home to yogis, naturalists, vegetarians, and surfers. Retreaters will enjoy staying in private-cozy villas with private outdoor showers (inside each room) surrounded by lush tropical greenery with the constant calming sound of soothing waves. Enjoy sunset beach walks, surfing, horseback riding, and great spiritual company.  Practice yoga on a beautiful oceanside yoga deck. Enjoy soothing massages with MoreLife Market Ayurvedic oils and eat delicious vegetarian meals with a wonderful spiritual community.
All are welcome. Space is limited to 15 persons.
Retreat Amenities and Services:
Integrative Yoga Meditation & Postural Yoga on an oceanside deck
Beachside Infinity Swimming pool
Enjoy amazing massage therapy with healing Ayurvedic oils (ala carte)
Daily Satsang (spiritual discourses) with Mas
Delicious Vegetarian Meals (light breakfast, lunch & dinner) every day
Amazing Surf for all levels. Enjoy warm water, many surfboard rental options, and fresh coconut juice to restore you after your blissful rides
When & Where:
Location: Playa Troncones, Mexico
Date: Oct 24th - 31st, 2023

Meet Your Host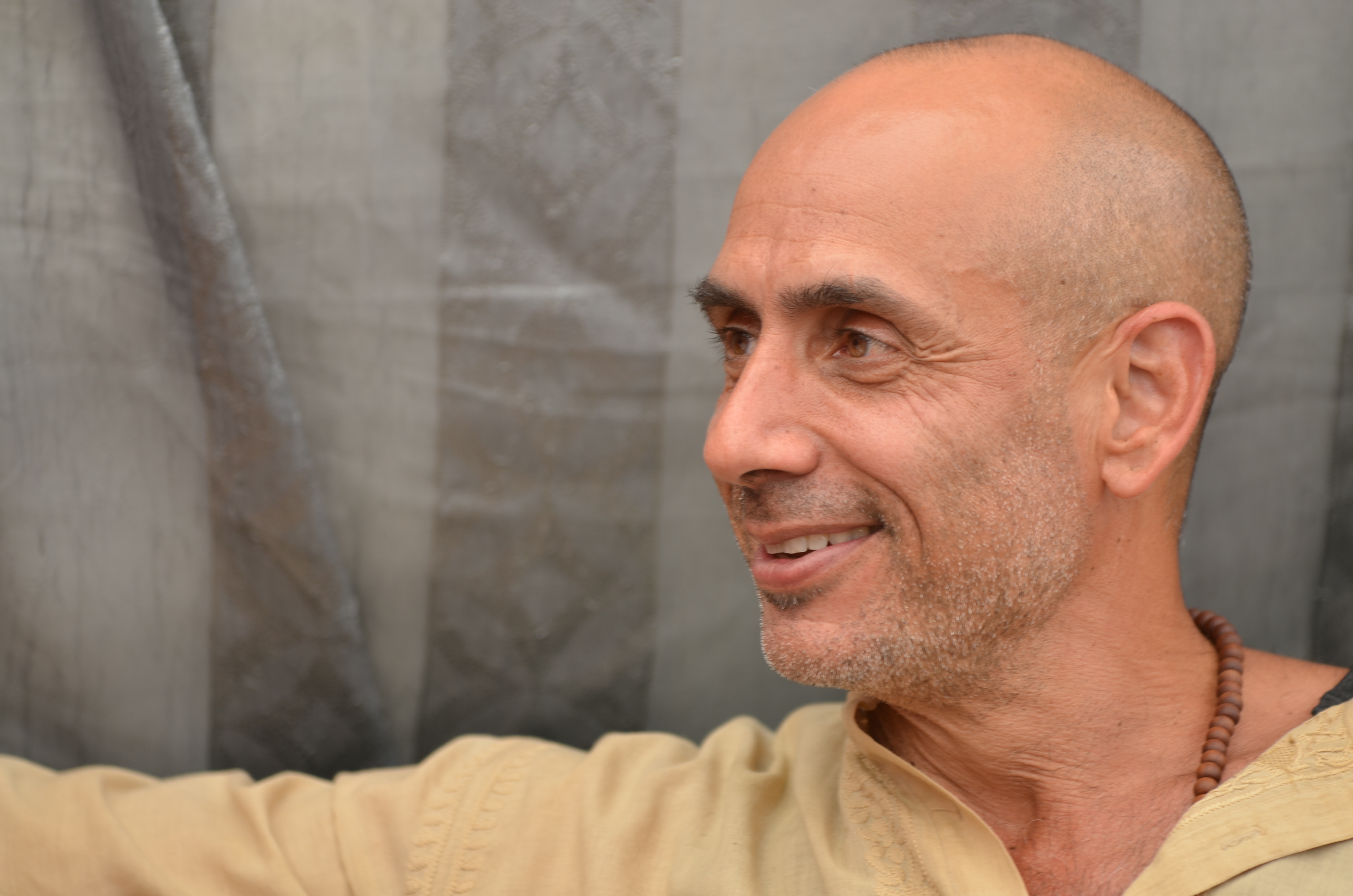 Mas Vidal (Maheshananda) - The retreat leader will be providing daily Satsang, Raja Yoga meditation, Hatha Yoga, and surf outings to the amazing Saladita point break.
Pricing:
Shared room with AC $2,350 (two per room) Each shared room contains one single bed and one double or queen bed, a private bathroom, and a shower. Most rooms have terraces that open to the pool and views of the beach and ocean. Rooms have small desks and nice size closets with air conditioning. All rooms have air conditioning.

Private Cottage (Queen bed) with AC $2,650
Private Cottage (King Bed) with AC $2,950

Deposit $1000 (All deposits are non-refundable).
Travel Details:
Getting to Playa Troncones: Fly into Zihuatanejo International Airport on Oct 24th, and take a 50-minute private taxi ride directly to the retreat center. Many who live in Southern Calif, choose to fly directly from Tijuana where they can get amazing-direct flights on Volaris Airlines. The approximate cost per taxi is about $50 USD which can be shared between 2-3 persons (cost not included in the retreat fee).
Leaving Playa Troncones: Anytime October 31st afternoon take a 50-minute private taxi ride directly to the Zihuatanejo International Airport. The approximate cost per taxi is about $50 USD which can be shared between 2-3 persons (cost not included in the retreat fee).

Register for the Retreat
Book your spot now!
PAY FOR A SHARED ROOM WITH AC - $2,350
PRIVATE COTTAGE (Queen bed) with AC - $2,650
PRIVATE COTTAGE (King Bed) with AC- $2,950
DEPOSIT $1000 (non-refundable)
*Deposits are recommended if you want to reserve your space for the retreat and would prefer not to pay the entire balance. Sometime in August-Sept, you will be sent an email invoice for the remaining balance that you can pay via credit card. 30 days prior to the retreat all payments are non-refundable.

**Airfare not included and flights should be booked to Ixtapa/Zihuatanejo International airport. which is about 20 miles from Troncones.
Please email us with your questions?
---
Post Retreat Meditation Intensive
Nov 1st - 3rd 2023
Enjoy an extra 3 -days of retreat and deepen your practice of meditation. Every day Mas will teach many important techniques as part of the Vedantic meditation tradition. Includes techniques, practice, lectures, and meals and includes much time to enjoy the same activities and amenities offered during the retreat.
Price: $750
Testimonials
~ This retreat was an exceptionally relaxing experience with like-minded souls. My favorite moments were sunrise
meditation with the sound of crashing waves behind us and yoga on the deck with beautiful views of the ocean. The vegetarian cuisine was exquisite and curated especially for our group by a local private chef.  It was a week of rest, restoration, and deliciously healthy food - exactly what I needed. 


~ It was an honor to be guided by Más Vidal on my own culinary journey of healing foods that delight all of our senses! I look forward to future collaborations!
~A true retreat!  It was a deep healing and restful experience for me where I felt nourished and supported in every way and a huge part of my self-care journey.  Made new loving friends and joyful memories. Very quaint and beautiful Troncones is the perfect place to feel a profound connection to nature, yoga, and meditation!
~ The retreat is the true essence of the time I had in Troncones Mexico. I hope to go back next year. The experience was Rejuvenation for my mind, body, and soul.  Meditation, Yoga, walks on the beach, eating amazing vegetarian food, and creating new life-long friendships, were some of the amazing highlights. I want to thank Mas for organizing this beautiful getaway. I look forward to many more!