Classes & Events with Mas Vidal and Special Guests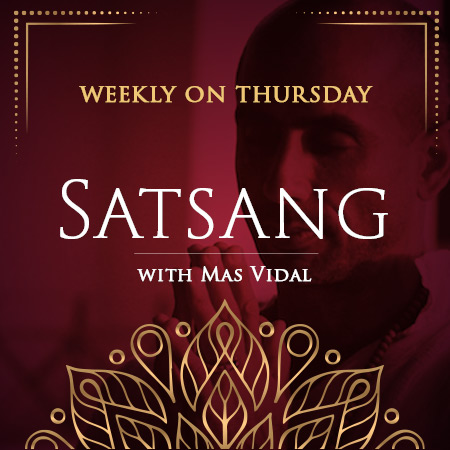 Weekly Satsanga with Mas Vidal
Join us weekly for a satsanga and explore how Vedic knowledge can be integrated into practical living. Mas will share wisdom stories from the epic scriptures of Vedanta combined with the profound knowledge of Ayurveda, Yoga, and Jyotish. All levels are welcome. Includes a short introductory period of guided meditation, mantras, and healing.
Time: 7:15 - 8:15pm Pacific Standard Time
Registration online at Soul of Yoga
---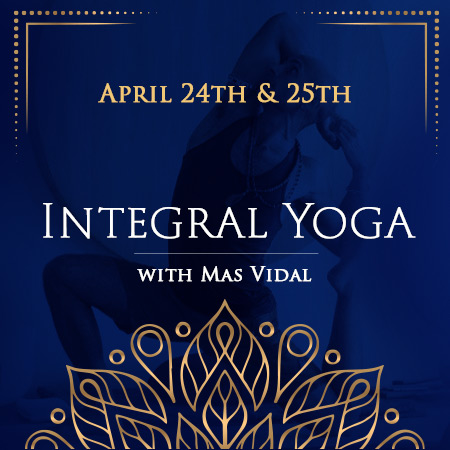 Integral Approach to Ayurvedic Asana, Pranayama For Tridosha with Mas Vidal
In this special yoga practicum combined with lecture, you will learn how to link the five elements, dosha, koshas, chakras, and the tissue system of Ayurveda. We will explore the basic foundations of tridosha and postural yoga as per Hatha or Tantra Yoga. Learn how postures are combined with the timing of practice, seasonal, and life periods of practice influence the doshas. Be prepared to practice and also enjoy some lectures so bring a notepad. Wisdom and practice always go together.
Date: Saturday, April 24th
Time: 8am -12pm
Cost: $50 / $40 pre-registration.
Registration online at Soul of Yoga
---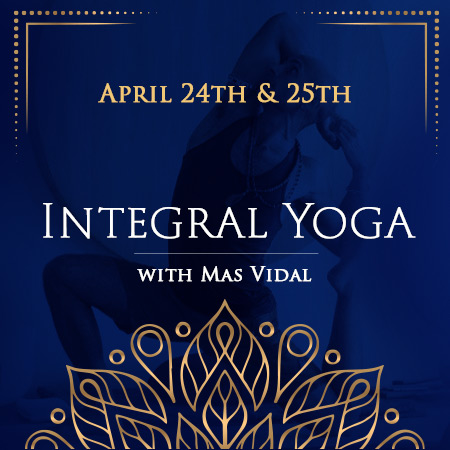 Evolutionary Healing Panel Discussion ~ Listen, Learn, ask questions and leave this workshop transformed!
Join us for this interactive panel discussion featuring a renowned group of doctors and healers to discuss how Ayurveda as the medicinal system of the higher ages is helping our global societies to shift in their consciousness to create Real healing. Our panel will share how yoga and astrology play important roles in healing. Join doctors, practitioners and astrologers Mas Vidal, Ram Tamang, Vijaya Stern and Sam Geppi for an afternoon of insightful wisdom.
Date: Saturday, April 24th
Time: 2pm - 4pm
Cost: $30 / $25 pre-registration.
Registration online at Soul of Yoga
---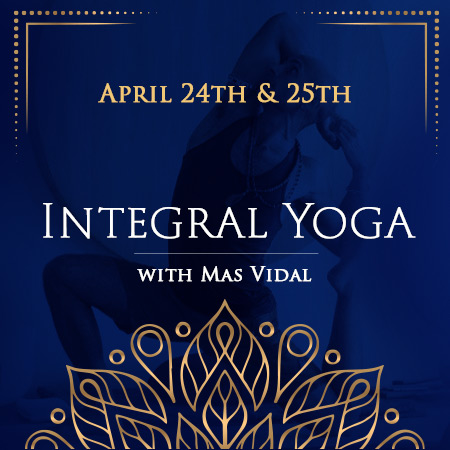 Integrating Asana, Pranayama & Tridosha (Part 2) for Detox with Mas Vidal
Learn how the elements can teach us how to connect the dots of healing. As Learn how to use postures to influence physiology and also how they affect the doshas and their functions. We will also incorporate the role of postural yoga for improving jatharagni (metabolism) and how asana and pranayama can work together for removing ama (undigested food waste). Finally, the workshop culminates with how Yoga is used for establishing a balanced state of mind-body synergy or homeostasis. All are welcome. Be prepared to practice and also enjoy some lectures so bring a notepad. Wisdom and practice always go together.
Date: Saturday, April 25th
Time: 8am -12pm
Cost: $50 / $40 pre-registration.
Registration online at Soul of Yoga
---
Past Events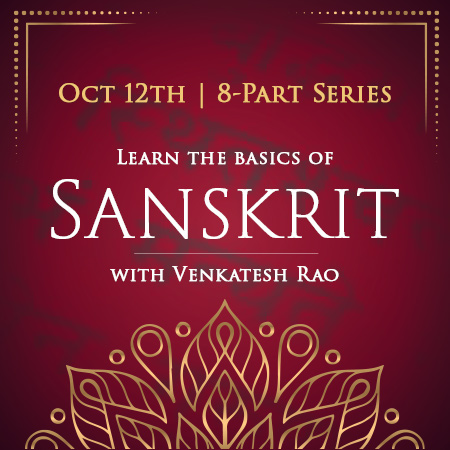 Introduction to Sanskrit
Learn the basics of the ancient and spiritual language of India known as Sanskrit. Based on the Devanagari script, this language provides the spiritual foundation for the behemoth healing systems known as Yoga, Ayurveda, and Jyotish and the entire Vedic culture. This introduction to Sanskrit will help the student understand the importance of proper pronunciation and the energetic value of Sanskrit mantras. You will learn the alphabet and how to pronounce many of the words used in yoga and Ayurveda. All are welcome and no prior experience is required.
Meet Venkatesh Rao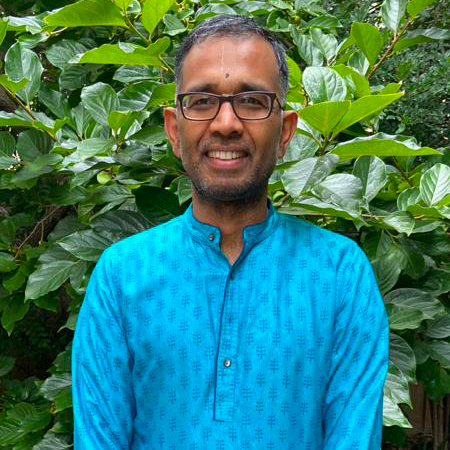 Venkatesh Rao is a volunteer teacher from Samskrita Bharati, an organization dedicated to reviving the Sanskrit language. He has been teaching the Sanskrit Language for the last 6 years in Southern California and also through online media. He is also a student of Yoga and the holy Bhagavad Gita. By profession, he is a management consultant working for a technology company.
Teacher: Venkatesh Rao
Date: Begins Oct 12th
Time: 6 - 7:30 pm Pacific Standard Time
Series: 8 Consecutive Mondays / 90 minute classes
Cost: $195
---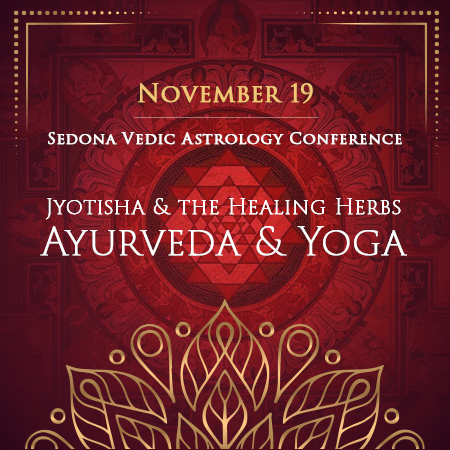 Vedic Astrology Conference
Join Mas Vidal for Jyotisha and the Healing Herbs of Ayurveda & Yoga
Jyotish and Ayurveda are interlinked and demonstrate a variety of healing remedies for the mind and body according to the more subtle factors in the birth chart. This intensive will explore the indicators found in the nakshatras (lunar mansions) to prescribe herbs, special formulas and dietary measures according to Ayurveda. Special emphasis will be placed on the nervous and endocrine systems to bring greater balance to the female body and health in general. We will explore the medicinal and symbolic significance of the trees or herbal plants according to each of the 27 nakshatras. Understanding the nakshatra tree as the physical human spine brings great insight into how prana adheres to the body, its strengths, and its deficiencies. These sacred plant-star correlations were assigned by the Vedic rishis to remind us of the sacred and eternal relationship the human spirit shares with nature.
Learn how the nakshatra tree acts as a yantra or vehicle for awakening the inner shakti or potential of the Goddess. Eventually, as the aspirant continues on their spiritual path they must inevitably connect their mind and spine (tree nakshatra) for greater health, and most importantly to enhance our knowledge and devotion to the One in All! The Supreme Divine!
Date: Thursday, Nov 19th from 10am - 4pm
Join the Conference
---
Virtual Bhakti Fest with Mas Vidal & Other Artists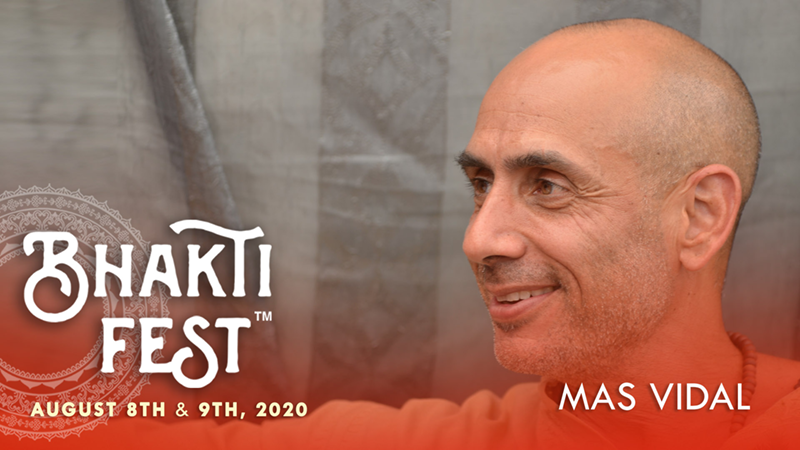 Join Mas for the first-ever virtual Bhakti Fest Reunion. Mas is super excited about performing for Bhakti Fest Reunion with other musicians, speakers, activists, and healers from all over the world. Join Mas for "The Secrets of Success" workshop per Yoga & Ayurvedic philosophies. The workshop is based on an adaption of Swami Rama Tirtha's teaching over a century ago at a small gathering in San Francisco in 1902.
Bhakti Fest Reunion will be streamed live 8th and 9th Aug.
Join the Festival: Purchase your ticket
We hope you will join us for an epic weekend of entertainment and workshop classes across 3 stages.
---