150 Hour India Ayurveda Immersion
January 13th - 27th 2020
This 15-day intensive takes place at our affiliate Institute in Pune, India. For several years the Dancing Shiva School has established a close affiliation with the fully accredited International Academy of Ayurveda (IAA). ACP students will experience the unique opportunity of participating in specialized classes given by Mas Vidal and the faculty of the institute. The material covered in the classes includes expansive (more advanced & in depth) coverage of the material listed in the main curriculum. The main difference gained from participating in studies in India is substantial. Firstly, to study at an Indian Ayurvedic institute is unique to our affiliation with IAA, as this is not commonly permitted at Indian institutes. As international students you receive the direct cultural experience, classes given by an Indian faculty, experience of observing actual patient cases (encounters) in an ayurvedic clinic and access to an extensive library and dedicated departments for each main topic of Ayurvedic education. Those interested in attending this program who have not completed our course are welcome to join us.

Curriculum topics include:
~ Kaya Chikitsa (Internal Ayurvedic Medicine)
~ Pancha Karma (Clinical Ayurvedic Treatments)
~ Womens Ayurveda-Gynecology
~ Herbology
~ Yoga Asana & Pranayama Therapy according to Ayurvedic Principles.

Overview of what is included in the Ayurveda Program:
1. Education provided by International Academy of Ayurveda (IAA) and Mas Vidal (Director of Dancing Shiva)
2. Shared accomodations in cottage style living or single-private cottage also available.

3. Three succulent meals per days at Pathyam Ayurvedic Restaurant
3. 150 Hour of Certification.
4. Transportation is provided from Mumbai International airport only! Drop off is also included to Mumbai International airport after the last day of the program.

*Recommended arrival into for the Ayurveda Program is into Mumbai International Shivaji Airport or Pune Airport is 2-3 days prior (Jan 10th- 12th) to commencement of the program and your return flight should depart early morning of Jan 27th Note: Its good to arrive a few days earlier to adapt to the time change. Cost for early arrival is included for 1-2 nights stay at TanMan Ayurvedic Research Clinic. Sometimes people prefer to spend a few days in Mumbai in a hotel site seeing before the program begins.
*Our highest recommendation is to attend the Yogi pilgrimage and enjoy good community in preparation for your ayurvedic studies.

---
Total Program Cost $3,250 for shared housing (2/room) (Does not include airfare) / $3650 for single/private room

For Payments and Registration: Click Here
We invite those who are not enrolled in the Dancing Shiva Ayurveda program to also attend. This program is especially unique as it provides students of Ayurveda and opportunituy to be with a great group of healers and participate at an inegral healing and wellness eco-village. Non-registered attendees can participate in yoga classes, special evening satsanga's (community gatherings) and receive three Ayurvedic treatments as recommended by the clinic doctor and as part of this package. In other words this event is open to the public except you will not receive certification unless you have credit hours from another institution.
---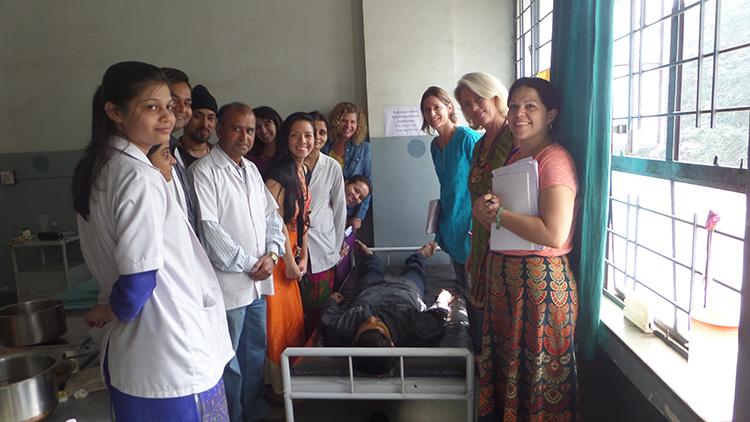 Program students with Ayurvedic doctors observing a patient in the hospital prior to treatment for back pain and spinal issues.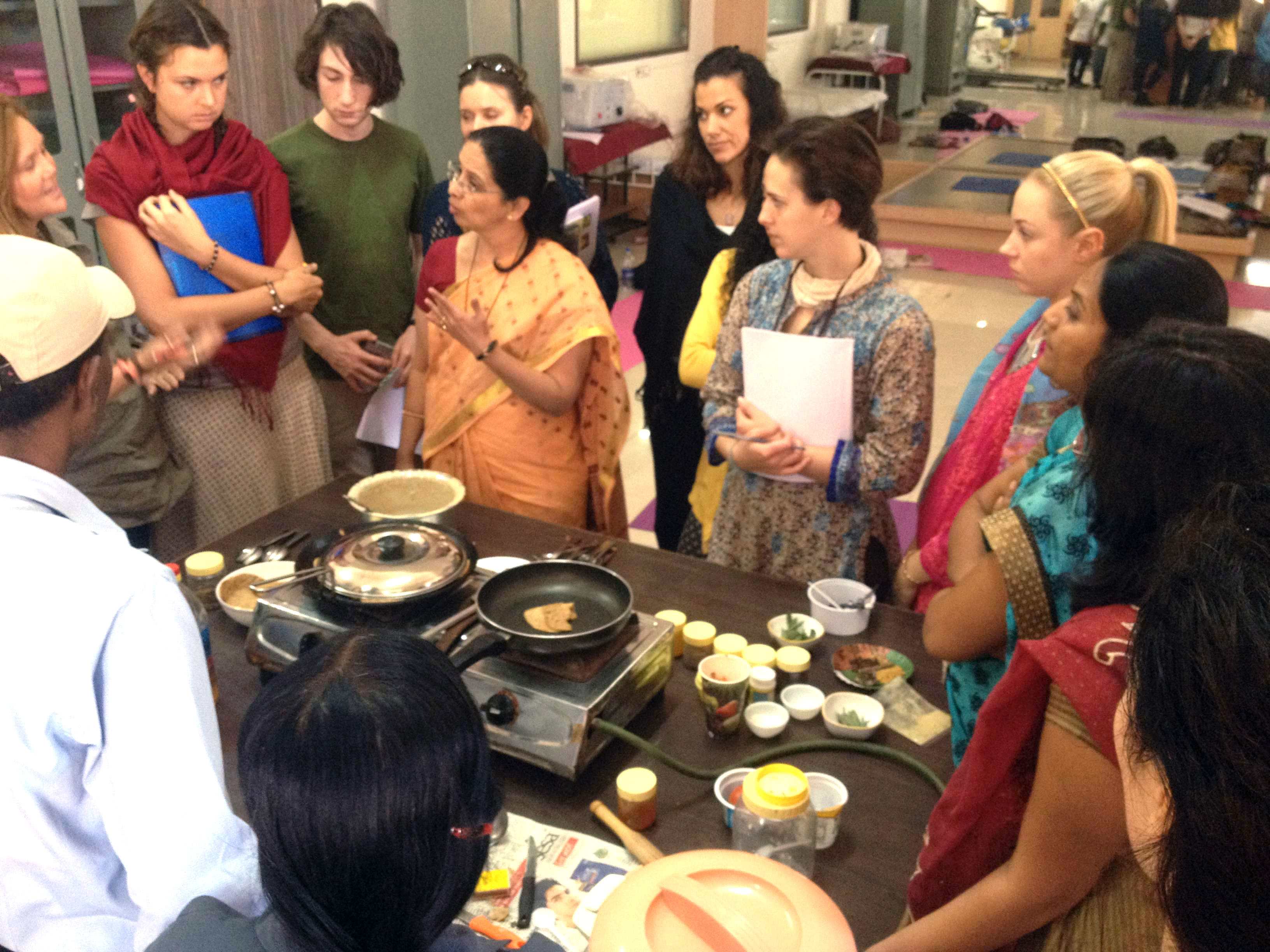 ---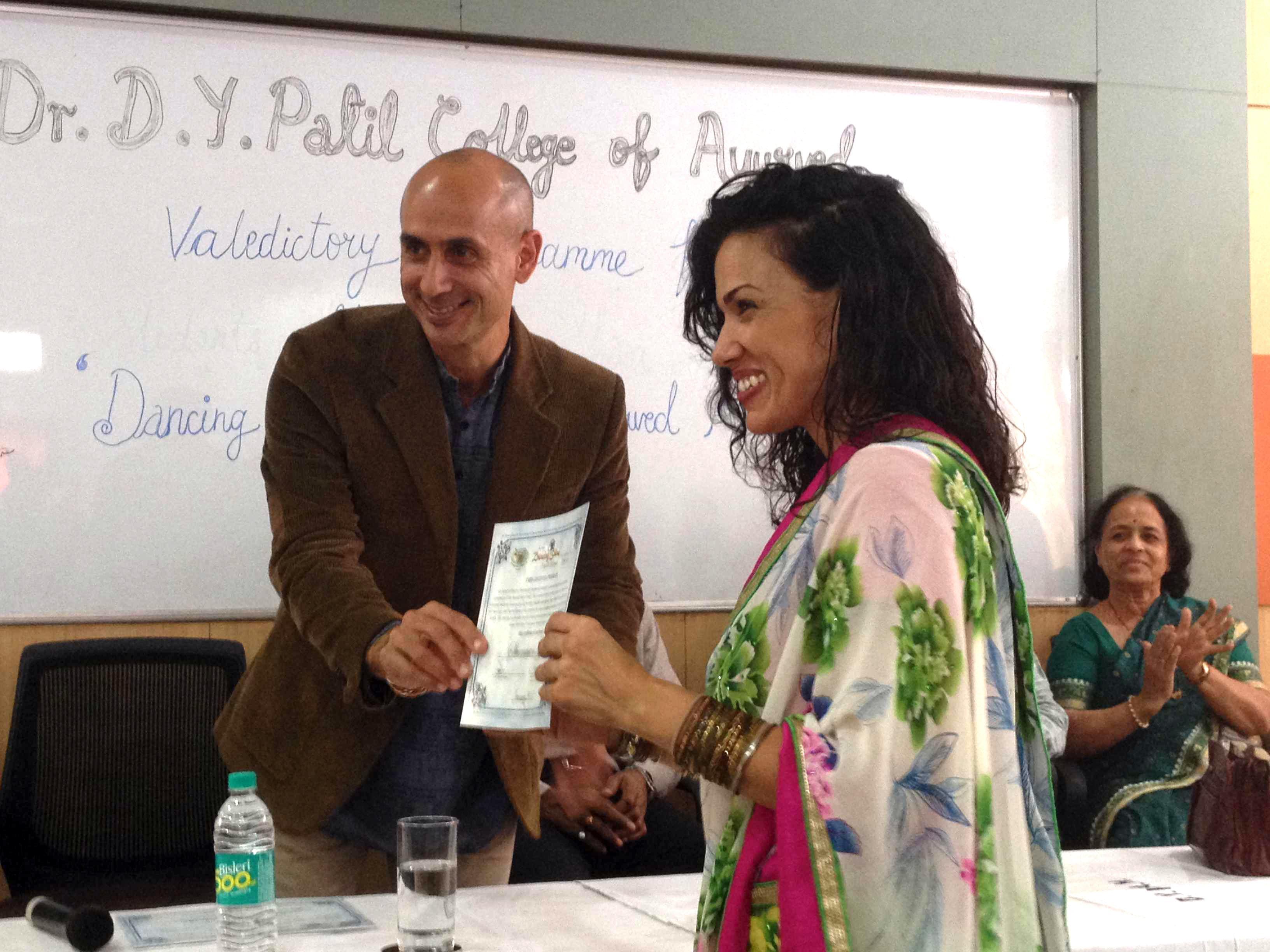 ---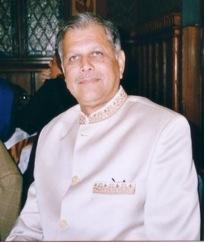 Dr. Subhas Ranade and his wife Sunanda are chairmans of the International Academy of Ayurveda (IAA), he is one of the leading pioneers of Ayurveda globally. He has been on the faculty of the Dancing Shiva programs for over 15 years and both DS and IAA have shared a strong affiliate relationship for many years.